[Taken from Zwift Insider: https://zwiftinsider.com/zwift-meetup-group-workouts/]
Meetups are a handy tool if you're looking to ride with a specific group of friends, and the new "Keep everyone together" option has made them even better.
But there's one Meetups feature which Zwifters are still looking for: the ability to do a group workout. That is, to set up a Meetup with whoever you'd like, where each person is doing the same structured workout and you all stick together for the duration.
Ideally, this would work like the official group workout events happening all the time and available via the Zwift Events calendar. Except this is an event you plan, with just the people you want to invite and the workout you want the group to complete.
You may think this isn't possible on Zwift–but it actually is.
Here's a simple Meetup hack that lets you organize a group workout on Zwift today.
IT STARTS LIKE ANY OTHER MEETUP
First, create your Meetup. They're very easy to plan via the Companion App. If you've never done it, here's a simple guide.
Just a few important notes as you organize your Meetup:
Do it for a set duration, not distance. This ensures your Meetup won't end before the workout does. We recommend setting it for 5-10 minutes longer than the workout length, so you can hang out in your Meetup for a bit once the workout is over.
Be sure to select "Keep Everyone Together" under "Customize Your Meetup", otherwise riders with different FTPs will become separated as they'll be holding different wattages even if they're doing the same workout.
It's a good idea to put instructions for finding the workout in the "Message Your Group" field, so everyone knows what the workout is called and where to find it. You can also message the group while everyone is waiting for the Meetup to begin.
ONE STEP MAGIC
Once your friends have joined the Meetup and you're sitting together waiting for it to begin, it's time for the magic to happen. Are you ready?
Click Menu>Workouts or hit "E" on your keyboard. This will open the workout picker window: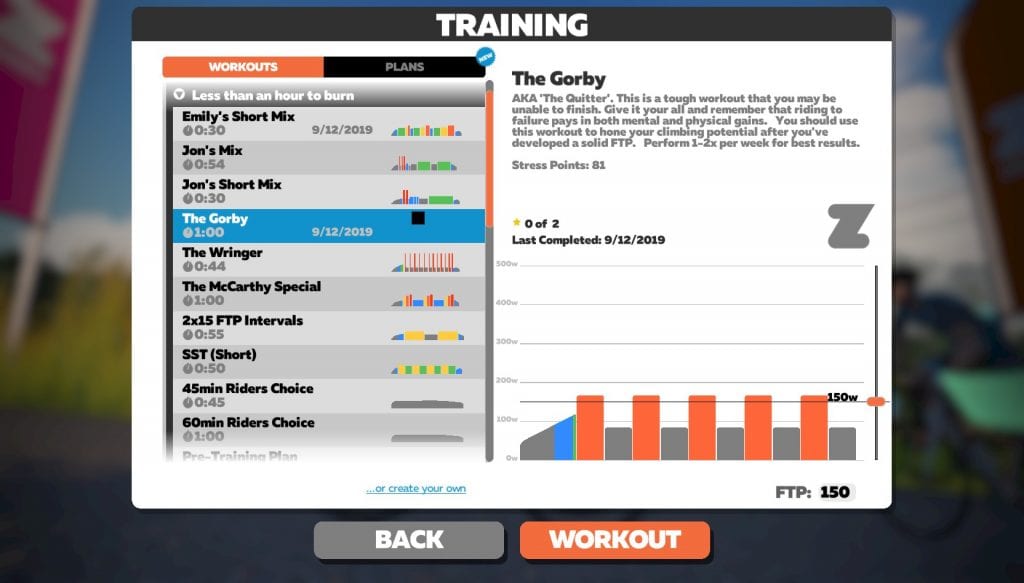 Choose the correct workout, click "Workout", and you're ready to go!
You'll now see the workout plan on the left: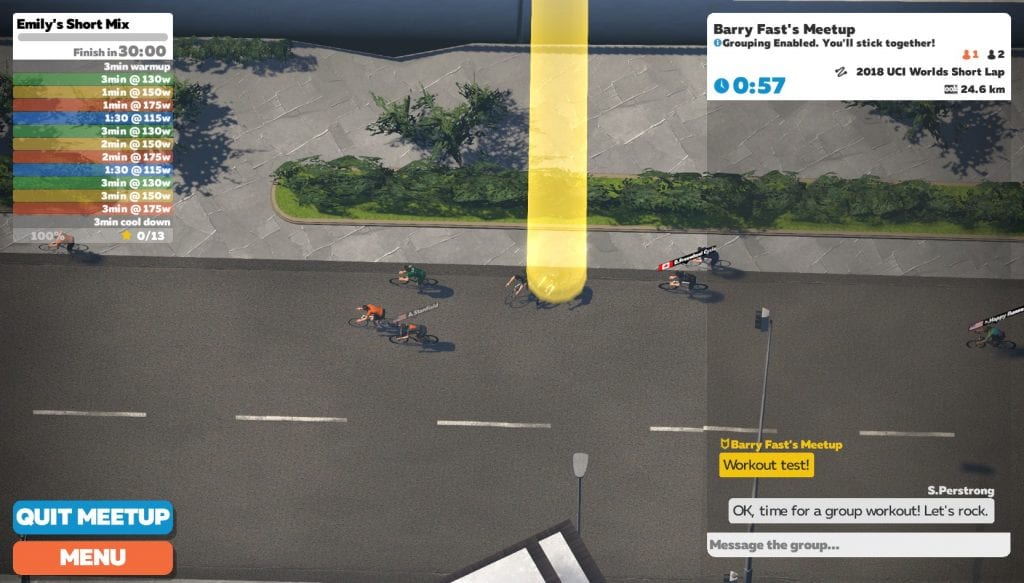 The workout will begin once the Meetup begins. Each rider can control their workout independently, adjusting FTP bias or skipping sections if they choose. With the "Keep Everyone Together" option you will all stay together regardless of wattage variances between riders.